Bilbao Airport Arrivals (BIO)
Not all flights may be showing. If not available use search above to find your flight by airline, airport or flight number.
Origin
Airline
Flight no.
Scheduled
Est./Actual
Status
No flight arrivals were found at Bilbao Airport.
Flight Arrivals at Bilbao Airport
Ground transportation options at Bilbao Airport include bus, taxi, and rental car. The easiest and fastest way to get into the city is by taxi.
There is a rank of taxis outside both terminals, and the journey into Bilbao takes around 20 minutes. The metered fare is approximately €30.
The bus may be better if traveling on a budget or with a large group. Buses are at the ground transportation center and take passengers into downtown Bilbao in around 30 minutes. Tickets can be purchased from the driver and cost €2 per person.
Tips to consider upon arrival in Bilbao, Spain:
The tapas scene is incredible here. Make sure to try as many different places as possible.
Basque people are known for being very friendly and hospitable. Don't be afraid to talk with a local.
Plenty of museums and cultural attractions keep you busy in Bilbao. The Guggenheim Museum is a must-see.
Wi-Fi at Bilbao Airport
Additionally, the airport provides one hour of free Wi-Fi. You must register for an account with your name and email address to use the free Wi-Fi. You will receive a password after creating an account that you may use to access the Wi-Fi network.
Rental Car Services at Bilbao Airport
Bilbao Airport is located just outside Bilbao in Spain's Basque Country area. The airport provides a variety of rental vehicle services to its passengers. See and compare all rental car companies at Bilbao Airport.
Avis, Budget, Enterprise, Europcar, Hertz, and Sixt are companies that provide airport services. These firms offer a variety of automobiles from which passengers can select the best vehicle for their needs.
We have the vehicle for you if you need a compact car for a quick excursion or an SUV for a family vacation. We also provide easy online booking so you may reserve your rental car ahead of time.
Rideshare Services at Bilbao Airport
Bilbao Airport has many rideshare services to assist passengers in reaching their destinations. Several companies, including Uber, provide these services. They can be reserved ahead of time or on the day of travel.
Rideshare services can be an excellent method to save money on transportation and a convenient alternative for individuals who do not want to rent a car.
Taxi Services at Bilbao Airport
There are numerous taxi options available at Bilbao Airport. Numerous companies operate out of the airport, so you should have no trouble choosing one that meets your requirements.
Prices vary according to the provider and the service you require. A taxi ride into Bilbao city center will cost you roughly €30. See more information about taxis at Bilbao Airport.
If you require a more deluxe service or travel in a large group, prices will be higher. Taxi services at Bilbao Airport are generally trustworthy and efficient, so you should have no trouble traveling to your destination.
Trains Services at Bilbao Airport
There is no direct train link to the airport. It is approximately 5 kilometers from Bilbao Airport to Abando Railway Station. Without a car, the best way to travel to the railway station is via bus, which takes 30 minutes and costs €2. More information about train services near Bilbao Airport.
Bus Services at Bilbao Airport
Bilbao Airport provides a variety of bus services to its clients. Regular buses, shuttle buses, and private transfer services are available to and from the airport. The bus services are dependable and quick, making getting to and from the airport simple.
The Bizkaibus firm operates a regular bus service to Bilbao Airport. Two routes connect the city center with the airport, stopping at prominent hotels along the way. More information about buses to and from Bilbao Airport.
The trip takes about 40 minutes. Tickets cost roughly €2 and may be purchased on the bus or at Bizkaibus ticket offices.
Hotel Shuttle Services at Bilbao Airport
Hotel shuttle services to and from Bilbao Airport are available. The service provider determines the shuttle service's fee. Please discuss pricing with your hotel.
Other Services at Bilbao Airport
Bilbao Airport offers a variety of pubs, restaurants, stores, and services for travelers. Food and drink options include fast food, cafes, and pubs. Additionally, a variety of duty-free goods are offered.
Additionally, there is a business center with conference spaces and meeting rooms. Those with limited mobility can reach the airport in its entirety.
ATMs at Bilbao Airport
An easy option to get euros before your trip is using the ATMs at Bilbao Airport. The devices can be found in the departures and arrivals sectors.
Currency Exchange at Bilbao Airport
The Bilbao Airport provides various currency exchange options to simplify your life, whether you're departing or arriving. You can always get the cash you need because ATMs and currency exchange booths are spread around the terminal.
Nursing Mothers Station at Bilbao Airport
The nursing or pumping station has everything you need, including a secluded area for nursing or pumping, a changing table, a sink, and electrical outlets.
Restrooms at Bilbao Airport
The main terminal building at Bilbao Airport houses restrooms close to the security checks and checkpoints for check-in. Near the boarding gates are toilets on the airside, including multiple family and accessible restrooms.
Food and Beverages at Bilbao Airport
Bilbao Airport has numerous dining options to accommodate all preferences and price ranges. There is something for everyone, from quick nibbles to seated meals.
The airport has several eateries, coffee shops, and a food court with a selection of fast food. There are many locations where you can get drinks, both alcoholic and non-alcoholic.
Bilbao Airport covers you if you want to grab a quick lunch before your trip or unwind with dinner and a bottle of wine after arrival.
Shopping at Bilbao Airport
Bilbao Airport shopping is a terrific place to get presents for loved ones back home. The airport features many businesses, from pricey designer boutiques to less expensive gift shops.
Additionally, there are many eateries and cafes where you can stop for a meal before or after shopping. Before or after your journey, Bilbao Airport is the ideal location to complete some last-minute shopping.
Smoking at Bilbao Airport
Smokers have a dedicated smoking area at Bilbao Airport.
Lost and Found Section at Bilbao Airport
The lost and found department is situated in the main terminal building at Bilbao Airport. Please get in touch with the lost and found office as soon as possible if you've misplaced something at the airport. The staff will be pleased to assist you in finding your missing item.
Information Desk at Bilbao Airport
The information desk at the airport in Bilbao is the best place to go for answers to any queries you may have concerning your flight.
The police can assist you with anything you need and are very polite and helpful. They are happy to assist you if you have questions or need instructions.
Pet Relief at Bilbao Airport
There are pet relief stations at Bilbao Airport for your convenience. Additionally, they offer benches and garbage bag dispensers to visitors.
Baggage Claim at Bilbao Airport
Bilbao Airport's baggage claim area is located next to Arrivals on the lower level of the building. Passengers can find their flight numbers above each of the area's carousels.
A lost-and-found office and an information desk are both available at the airport, where travelers can report missing property and get answers to their inquiries.
Disabled Passengers at Bilbao Airport
Several services are available at Bilbao Airport for people with disabilities.
These consist of the following:
Exceptional help during boarding and disembarkation
A designated check-in desk for disabled travelers
An airport wheelchair service
An information system in Braille.
The airport also offers many amenities created especially for travelers with disabilities, including accessible restrooms, elevators, and parking spots.
Please visit the website or contact the customer service team for further details on the services and amenities offered to disabled travelers at Bilbao Airport.
Was your flight delayed or cancelled?
You may be eligible to receive up to 600 EUR compensation per person in your party..
Claim Now!
Beat the Queues
Don't stand sweating for 45 mins waiting for Security. Get a fast track and get through in 5 mins or less.
Book now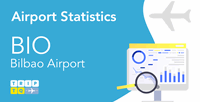 Bilbao Airport stands out with a remarkable recovery. In September 2023, this hub recorded an 8.99% increase in passenger numbers compared to the same month in the pre-pandemic year of 2019...