Train Transfers To and From Bilbao Airport



Bilbao Airport Train Transfers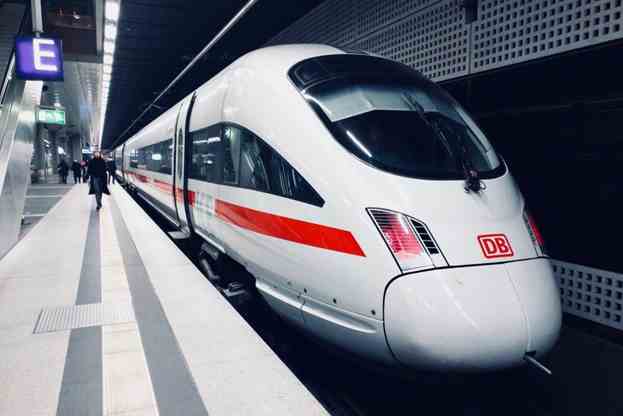 There are no direct railway links from the airport to the city. However, if you need to get to the central Bilbao-Abando railway station (Estación de Abando).
The distance between Bilbao Airport (BIO) and Bilbao-Abando railway station is 5 km. The best way to get from Bilbao Airport to the railway station without a car is by bus, which takes 40 min and costs about €2.
Take A3247 BIZKAIBUS from Bilbao Airport and exit at the bus station, which is located 2 mins walking distance from the train station.
Bilbao-Abando Railway Station (Estación de Abando)
Commonly referred to as Bilbao-Abando and formerly known as Estación del Norte (North Station), the Abando Indalecio Prieto railway station (Basque: abandoko Indalecio Prieto geltokia, Spanish: Estación de Abando Indalecio Prieto) is a terminal train station in Bilbao, Basque Country (Spain).
The district of Abando and the Second Spanish Republic's Minister of Public Works, Indalecio Prieto, inspired the station's moniker.
This is where various extended and medium-distance Renfe services and Cercanas commuter rail lines serving the Bilbao metropolitan region disembark their passengers. There are numerous local and regional bus lines and direct connections to this station's Metro Bilbao and the tram.
Renfe Feve's Bilbao-Concordia train station is located nearby. Once construction is complete, a new station will need to be built at Bilbao-Abando to accommodate Basque Y's high-speed line.
Commuter and intercity Cercanas trains stop here regularly. The station is unique for a terminal in a city of Bilbao's size because it does not offer any regional medium-distance trains.
Bilbao-Concordia stations and Zazpikaleak/Casco Viejo are conveniently close by, making up for the area's relative dearth of services by providing access to trains heading to Santander, León, and San Sebastián.
The station is a hub for all passenger services that are not local because of the long-distance ones. The station is accessible by three different significant lines. Cercanas Bilbao is a commuter rail system run by Cercanas, a subsidiary of Renfe, with its central station located at Bilbao-Abando.
Cercanas provides services like those fast transit between central Bilbao and outlying municipalities around the metropolitan area.
There are local trains to Balmaseda and Karrantza regional trains to Santander and León from the Bilbao-Concordia station, both of which are accessible from Bilbao-Abando thanks to their proximity to the station.
From Abando to Concordia in Bilbao, you may walk straight. About 600 meters from Bilbao-Abando lies the Zazpikaleak/Casco Viejo station. Euskotren Trena oversees this stop, and trains to Durango, Elgoibar, and San Sebastián depart from here.
Abando Metro Station, on Lines 1 and 2, connects to Bilbao-Abando, providing additional connections to the city and beyond.
It first welcomed customers on November 11, 1995. The main hall is situated right above the rail lines, in the traditional cavern-shaped architecture of most underground Metro Bilbao stations designed by Norman Foster.
Euskotren's Abando stop for the Bilbao tram can be found on Navarra Street, just a few hundred meters from the Bilbao-Abando station. The tram system links the Abando, Ibaiondo, and Basurto-Zorro neighborhoods.