BILBAO AIRPORT (BIO) INFORMATION
Origin
Airline
Flight no.
Scheduled
Est./Actual
Status
No flight arrivals were found at Bilbao Airport.
Destination
Airline
Flight no.
Scheduled
Est./Actual
Status
No flight departures were found at Bilbao Airport.
Car Hire at Bilbao Airport
UNBEATABLE VALUE CAR RENTAL
Free Amendments | Free Cancellations | No Card Fees




Bilbao Airport - All Information on Bilbao Airport (BIO) Bilbao Airport
Bo. Gaztañaga, 633, 48180 Loiu, Biscay, Spain
phone +34913211000
phone+34913211000 (Lost + Found)
Facts and History about Bilbao Airport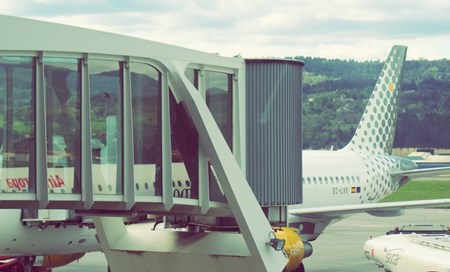 Bilbao Airport (IATA: BIO) is located approximately 9 kilometers north of Bilbao, Spain. The airport serves the most significant number of passengers in the Basque Country and all northern Spain. The new main terminal, built by Santiago Calatrava and opened in 2000, has become an icon of the city.
Those entering the airport from the sides will immediately notice the terminal's sleek form, which features two symmetrical "wings" and a sharp tip in the center. The building's unique architecture earned it the moniker "La Paloma" (The Dove).
The use of white concrete and glass is striking. Both the departures (check-in desks and gates) and arrivals (luggage claim, baggage claim, and baggage claim) areas are located on the top level. The terminal is open and bright on both floors.
History of Bilbao Airport
The Union of Public Works began planning the construction of an airport in Bilbao in October 1927, following a series of successful aeronautical trials in the province of Biscay. As a result, the provincial government established a board to investigate potential airport sites.
In 1936, the FAA finally gave the go-ahead for an airport to be built in Sondika. However, the airport was not considered promising because of the location's many flaws. Because of its mountainous setting, Bilbao required a level valley with a manageable population.
At the start of the Civil War, construction began. The airport served exclusively as a military base in this period and up until June of 1937. Phase two of the airport's construction began in 1938.
The council and the government have resumed their efforts to update the dated plan from 1936. The General Management of Infrastructure gave the go-ahead for a new project to be drawn out.
The establishment of a civilian airport in Sondika was agreed upon by local groups in 1940. Construction took its time, but on September 19, 1948, an air route to Madrid was created by Aviación y Comercio, SA, and the airport was opened to daylight traffic.
The terminal, renamed after the famous Bilbao pilot Carlos Haya, opened to the public two years later. The airport had asphalt and earth runways, a taxiway, a passenger terminal, a tower control, a radio beacon, a direction finder, police, a post office, security, medical care, fuel, and telephones.
A taxiway connecting the runway to the parking lots and terminal was constructed in 1955. It also included a permanent facility for Campsa and a hangar for the Royal Flying Club of Vizcaya.
A meteorological radio for storm detection and an instrumental ILS landing system was installed between 1964 and 1965. The parking stand was lengthened, a connection road was constructed, and an instrument landing system was put in place in 1977.
That same year, a 2,600-meter runway opened, and the airport was upgraded to the highest category the following year. Due to the high population density, arriving planes may have to fly directly over the large Derio cemetery.
About Bilbao, Spain
Bilbao is in the Basque Country and the province of Biscay in northern Spain. Also, it's the largest proper city in the north of Spain. The Greater Bilbao Area is one of Spain's most populous metropolitan regions.
The Greater Basque region, of which Bilbao is the primary urban area, is in northern Spain.
The Bilbao estuary forms about 16 kilometers south of the Bay of Biscay, where the city's social and economic development can be found. Two minor mountain ranges, each no more than 400 meters in elevation, enclose the city's core.
The low-pressure systems and mild air from the Bay of Biscay define the climate there, reducing the heat of the summer when compared to the rest of the Iberian Peninsula. In terms of yearly temperature range, it is standard for its latitude.
Bilbao gained enormous prominence in the Crown of Castile after it was founded by Diego López V de Haro (14th century), leader of the strong Haro family. This was because of its booming trade with the rest of Europe via its port, which shipped out wool and iron ore from the Biscayan quarries.
By the turn of the twentieth century, Bilbao had become the economic hub of Spain's second-most industrialized region, after Barcelona, thanks to the city's rapid industrialization in the preceding century. Additionally, a phenomenal rise in the population necessitated the annexation of several neighboring towns.
After the completion of the iconic Bilbao Guggenheim Museum and subsequent infrastructure investments like the airport terminal, the rapid transit system, the tram line, the Azkuna Zentroa, and the currently under development Abandoibarra and Zorrozaurre renewal projects, Bilbao is now a thriving service city with an ongoing social, economic, and aesthetic revitalization process.
The football club Athletic Club, based in Bilbao, is a prominent emblem of Basque nationalism because it promotes only Basque players. In the annals of Spanish football, it ranks among the all-time greats.
Bilbao, Spain, was honored with Singapore's Lee Kuan Yew World City Prize on May 19, 2010, presented by Singapore and the Swedish Nobel Academy.
The British organization, The City Mayors Foundation, presents the 2012 World Mayor Prize every two years; on January 7, 2013, it was presented to the city of Biscaya and its mayor, Iaki Azkuna, for the city's remarkable urban change since the 1990s.
The worldwide organization, The Academy of Urbanism, announced Bilbao as the winner of the Best European City 2018 Urbanism Award on November 8, 2017.
Weather in Bilbao, Spain
Summers in Bilbao are mild, whereas the lengthy, cold, wet, windy winters are frequently gloomy. Year-round highs average around 76 and 41 degrees, rarely falling below 34 degrees or above 84 degrees.
Bilbao is at its finest for outdoor activities from late June to early September. Average daily highs throughout the three-month-long warm season are above 71 degrees Fahrenheit. Temperatures in Bilbao reach a high of 76 degrees Fahrenheit and a low of 61 degrees Fahrenheit in August, the warmest month of the year.
Daily highs during the chilly season are typically below 58 degrees Fahrenheit for the whole of the season (about 4 months). January is the coldest month in Bilbao, with temperatures averaging between 42 and 53 degrees Fahrenheit.
At different times of the year, Bilbao experiences a higher or lower probability of rain. There is a greater than 25% probability of rain on any given day during the wetter season, which lasts for eight months, from September to May.
On average, November is Bilbao's wettest month, with 11 days receiving at least 0.04 inches of precipitation. From May till September, the weather is drier than usual. July has the fewest wet days in Bilbao, with just 4 days recording at least 0.04 inches of precipitation.
You'll have to deal with higher humidity levels from June to September. Comfort levels are humid, unpleasant, or terrible at least 3% of the time throughout this period.
Transfer Services at Bilbao Airport
Bilbao Airport is a practical choice for travelers. However, there are a few factors to consider while selecting a mode of transportation from the airport.
The best choice is to take a taxi or an Uber if you are staying in the city center. Both options are reasonably priced and will get you where you're going quickly.
Taking a shuttle bus might be a preferable choice if you are staying further from the city center or have a lot of stuff. You are routinely dropped off at your hotel or apartment complex by the shuttle vehicles.
If you plan to rent a car while in Bilbao, that is something else to think about. Renting a car may be a wise decision if you anticipate doing a lot of driving.
If you merely need transportation for traveling around Bilbao and don't anticipate doing any driving, renting a car is generally not necessary.
Rental Car Services at Bilbao Airport
In Spain's Basque Country, the Bilbao Airport is situated just outside of Bilbao. The airport provides a variety of rental automobile options for its patrons. See and compare all rental car companies at Bilbao Airport.
At the airport, several businesses provide their services, including Avis, Budget, Enterprise, Europcar, Hertz, and Sixt. These businesses offer a variety of automobiles so that customers can select the one that best suits their needs.
If you need a compact car for a quick excursion or an SUV for a family holiday, we have the ideal vehicle. Additionally, we provide easy online booking so you may make a reservation for your rental car in advance.
Rideshare Services at Bilbao Airport
Several rideshare services are available at Bilbao Airport to assist travelers in getting where they need to go. These services are offered by several businesses, including Uber. You can reserve them in advance or on the day of departure.
Rideshare services can be a practical alternative for those who don't want to rent a car and a wonderful method to reduce transportation costs.
Taxi Services at Bilbao Airport
There are several different cab options to select from at Bilbao Airport. You should have no trouble locating a business that meets your needs since the airport is home to many businesses.
Depending on the business and the kind of service you need, prices change. For a journey into Bilbao's city center, budget about €30. See more information about taxis at Bilbao Airport.
Prices will be more if you require a more opulent service or are traveling in a large group. At Bilbao Airport, taxi services are typically dependable and effective, so travelling to your destination shouldn't be a problem.
Trains Services at Bilbao Airport
There is no direct train link to the airport. About 5 kilometres separate the Bilbao Airport from the Abando Railway Station. Without a car, the bus, which takes 30 minutes and costs €2, is the best method to get to the train station. More information about train services near Bilbao Airport.
Bus Services at Bilbao Airport
Bus services are widely available at Bilbao Airport for travelers. Regular buses, shuttle buses, and private transfer services all run to and from the airport. It is simple to travel to and from the airport thanks to the swift and dependable bus services.
The Bizkaibus firm runs the regular bus service to Bilbao Airport. There are two routes that travel from the city center to the airport, stopping at significant hotels en route.
The trip takes about 40 minutes. For roughly €2, tickets can be purchased at Bizkaibus ticket counters or on board the vehicle. More information about buses to and from Bilbao Airport.
Hotel Shuttle Services at Bilbao Airport
The Bilbao Airport provides shuttle service to and from hotels. The shuttle service's price is determined by the provider. Please discuss pricing with your hotel.
Parking Services at Bilbao Airport
The airport in Bilbao offers a variety of parking choices to fit every demand and price range. The airport provides long- and short-term parking, as well as discounted prices for electric vehicles. With CCTV cameras installed everywhere, parking is secure and safe in this location.
A free shuttle bus service connects the parking lots to the terminal building for people on a tight budget. This service is offered every day of the week, around-the-clock. See more information about short and long term parking at Bilbao Airport.
Additionally, there are designated family parking places nearby the terminal building. These locations include kid safety seats and bigger parking spots.
Other Services at Bilbao Airport
Passenger facilities at Bilbao Airport include a wide range of bars, restaurants, shops, and services. There are plenty of options for food and drink, including fast food, cafes, and bars. There is also a wide selection of duty-free shopping available.
There is also a business center with meeting rooms and conference facilities. The airport is fully accessible for passengers with reduced mobility.
Wi-Fi at Bilbao Airport
The airport also offers an hour of free Wi-Fi. To access, you must create an account with your name and email address. Once you have created an account, you will be given a password that you can use to log in to the network.
ATMs at Bilbao Airport
ATMs at Bilbao Airport offer a convenient way to get euros before your flight. The machines are in the Arrivals and Departures areas.
Currency Exchange at Bilbao Airport
Whether arriving or departing, Bilbao Airport offers a wide range of currency exchange services to make your life easier. There are ATMs and currency exchange kiosks throughout the terminal, so you can always get the cash you need.
Nursing Mothers Station at Bilbao Airport
The station has everything you need to comfortably breastfeed or pump, including a private space for breastfeeding or pumping, a changing table, a sink, and electrical outlets.
Restrooms at Bilbao Airport
Restrooms at Bilbao Airport are in the main terminal building, near the check-in counters and security checkpoints. Toilets are also available airside, near the boarding gates, including several family and accessible toilets.
Food and Beverages at Bilbao Airport
Bilbao Airport has a wide range of food and beverage outlets to suit all tastes and budgets. From quick snacks to sit-down meals, there is something for everyone.
Several restaurants and cafés located throughout the airport, as well as a food court with various fast-food options. You can also find plenty of places to get drinks, both alcoholic and non-alcoholic.
Bilbao Airport has you covered if you're looking for a quick bite before your flight or want to relax with a meal and a glass of wine after landing.
Shopping at Bilbao Airport
Shopping at Bilbao Airport is a great way to find gifts for friends and family back home. The airport has a wide variety of shops, from high-end designer stores to more affordable souvenir shops.
There are also plenty of restaurants and cafes, so you can grab a bite to eat while you shop. Bilbao Airport is the perfect place to do some last-minute shopping before or after your flight.
Smoking at Bilbao Airport
Bilbao Airport has a designated smoking area for smokers.
Lost and Found Section at Bilbao Airport
The lost and found section at Bilbao airport is in the main terminal building. If you have lost an item while at the airport, please get in touch with the lost and found office as soon as possible. The staff will be happy to help you locate your lost item.
Ticketing Services at Bilbao Airport
Bilbao Airport offers a wide range of ticketing services to its passengers. The airport has a dedicated team of customer service representatives who are always ready to assist passengers with their ticketing needs. It also provides a self-service ticketing kiosk for those who prefer to do it themselves.
Information Desk at Bilbao Airport
The information desk at Bilbao airport is the best place to go for any questions you may have about your flight. The officers are very friendly and helpful, and they will be able to help you with anything you need. If you are unsure about anything or need directions, they will be happy to help you.
Pet Relief at Bilbao Airport
Bilbao Airport offers pet relief areas for your convenience. They also provide guests with waste bag dispensers and benches.
Baggage Claim at Bilbao Airport
Baggage claim at Bilbao Airport is on the terminal's lower level, next to Arrivals. This area has multiple carousels, and passengers can find their flight numbers posted above each. The airport has a lost and found office where lost items can be reported and an information desk where travelers can ask questions.
Disabled Passengers at Bilbao Airport
Bilbao Airport offers a range of services for disabled passengers.
These include:
A dedicated check-in desk for disabled passengers
Special assistance during boarding and disembarkation
An airport wheelchair service
A Braille information system.
The airport also has several facilities specifically designed for disabled passengers, such as accessible toilets, lifts, and accessible parking spaces.
For more information on the services and facilities available to disabled passengers at Bilbao Airport, please visit the website or contact the customer service team.
Useful Contact Details
Country Emergency Contact Number: 112
Bilbao is a beautiful city with a lot to offer first-time travelers. However, there are a few safety tips to keep in mind:
Be aware of your surroundings and try not to draw attention to yourself.
Always carry a copy of your passport and visa with you.
Keep your valuables safe and secure.
If you are traveling alone, let someone know where you are going and when you plan to return.
Following these simple safety tips, you can enjoy your trip to Bilbao worry-free.
If you are in Bilbao, Spain, and you have the police or medical emergency, there are a few things that you can do. First, if you have a phone, try to call 112, the emergency number in Spain. If you don't have a phone or can't get through to 112, go to the nearest police station or hospital.
Hospitals
Address: Gordóniz Kalea, 9, 48010 Bilbo, Bizkaia
Phone: +34 944 44 50 12
Clinica San Francisco Javier - Bilbao
Address: San Francisco Javier Clinic Cl. Gordoniz, 12 48020, Bilbao, Biscay
Phone: +34 944 10 27 10
Police
General directorate of police (Dirección General de la Policía)
Address: Felipe Uhagón Alkatearen Kalea, 6, 48010 Bilbo, Bizkaia, Spain
Coordinates: 43.259551059649844, -2.9392027447867455
Bilbao Airport Contacts
Address: Bo. Gaztañaga, 633, 48180 Loiu, Biscay, Spain
General Phone: +34913211000
Lost and Found Phone: +34913211000
Information Desk: +34913211000
Official website: https://www.aena.es/en/bilbao.html
Local Information
Drive on: Right
Electricity: 230V/50Hz.
Plug: C, F
Currency: Euro, €
Wi-Fi at Airport: Free Wi-Fi connection is available at Bilbao airport
Services at Bilbao Airport
Useful Information about Bilbao Airport