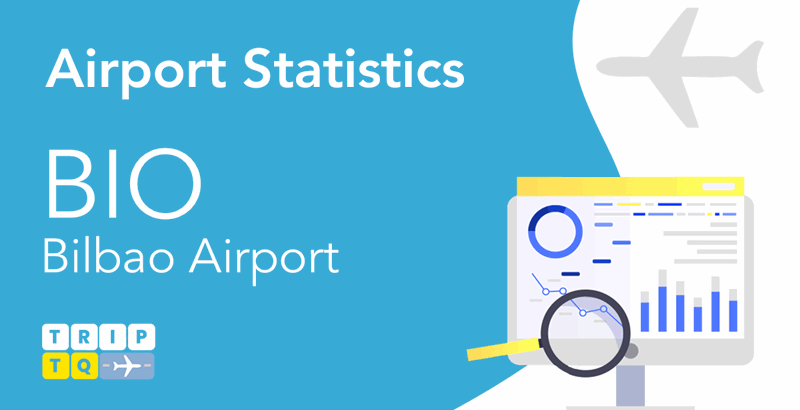 Passenger Traffic Surges 14% in July 2023 at Bilbao Airport
Bilbao Airport witnessed an extraordinary surge in passenger numbers during July 2023, with an all-time high increase of 13.79% compared to pre-pandemic records in 2019. The onset of the pandemic in 2020 brought unprecedented challenges to the aviation sector worldwide, leading to heavy restrictions, lockdowns, and reduced travel demand.
The airport experienced a significant decline in passenger numbers, with July 2020 witnessing a sharp decrease compared to the same month in 2019. The imposition of travel bans, quarantine measures, and the fear of infection greatly affected passenger confidence and disrupted air travel operations.
However, as travel restrictions gradually eased and vaccination campaigns gained momentum, a slow recovery began in 2021. Throughout 2021 and 2022, the airport experienced a gradual increase in passenger numbers, with travelers cautiously resuming their journeys. Although still below pre-pandemic levels, this recovery marked a turning point for the airport, indicating positive signs of revival.
A major contributing factor to the surge in passenger numbers is the relaxation of travel restrictions. As vaccination rates increased and countries implemented a harmonized approach to reopening borders, individuals felt more confident and willing to embark on their travels. The easing quarantine requirements and introduction of digital health passes also facilitated smoother travel experiences.
July is traditionally a peak travel season, with many individuals taking advantage of the summer holidays to explore new destinations. The desire to make up for lost time during the pandemic and the pent-up demand for travel likely played a significant role in the surge at Bilbao Airport.
Spain, known for its rich cultural heritage, stunning landscapes, and vibrant cities, has always been a popular tourist destination. The gradual recovery of the tourism sector in Spain and the country's effective pandemic management attracted both domestic and international travelers to Bilbao and its surrounding regions.
The city's unique blend of modern architecture, cultural heritage, and world-renowned museums, such as the Guggenheim Museum, has made it a magnet for visitors from around the globe. As a result, more tourists are choosing Bilbao Airport as their entry point, boosting passenger numbers significantly.
As an important gateway to the vibrant Basque region, Bilbao Airport offers convenient access to Bilbao, renowned for its cultural heritage, world-class cuisine, and stunning landscapes. The combination of rich cultural experiences and efficient transportation infrastructure has made Bilbao a desirable destination for domestic and international travelers.
Another factor impacting the surge in passenger traffic is the post-pandemic economic recovery. Bilbao's robust economy and thriving tourism industry have made the airport a popular gateway for visitors and investors.
The city has emerged as a hub for business and trade in recent years, attracting entrepreneurs, investors, and professionals from various industries. Bilbao Airport's proximity to key economic zones, such as the Basque Country and northern Spain, has made it a convenient choice for business travelers.
The expansion of flight connections at Bilbao Airport has played a pivotal role in attracting more passengers. Airlines have recognized the growing demand for travel to and from Bilbao, leading to increased direct flights and new routes.
Continuous investment in airport infrastructure has significantly contributed to the surge in passenger traffic. It has undergone major renovations and expansions, including adding new terminals, improved facilities, and enhanced security measures. These upgrades have improved the overall passenger experience and instilled confidence among airlines and travelers, leading to increased flight demand.
Bilbao Airport's increasing passenger numbers can also be attributed to effective marketing and promotional campaigns. Collaborations between tourism boards, airlines, and local businesses have been key in showcasing the unique attractions and experiences that Bilbao and its surrounding regions have to offer.
Leveraging digital marketing channels and personalized advertising campaigns, the airport has successfully captured the attention of potential travelers, convincing them to choose Bilbao as their preferred destination. This strategic approach has led to a 14% surge in passenger traffic in July 2023, and promises continued growth and development for Bilbao Airport.
By fostering strong partnerships and continuously refining its marketing efforts, the airport has positioned itself as an appealing choice for domestic and international travelers. The increasing passenger numbers bring economic benefits and contribute to Bilbao's growth and recognition as an attractive tourist destination.
UNBEATABLE VALUE CAR RENTAL

FREE
Amendments,
FREE
Cancellations,
NO
card fees!

airport_shuttle Need Airport Transfers?
Useful Information about Bilbao Airport