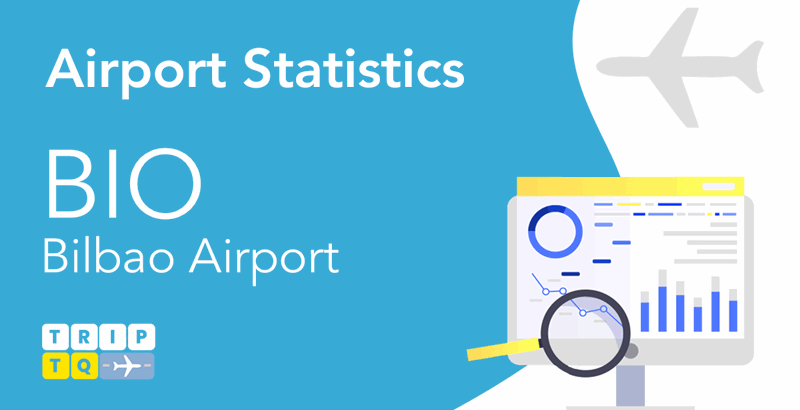 Bilbao Airport Sees Strong Passenger Growth in Q3 2023, Up 16% Year-over-Year
Amidst the challenges the travel industry faces in recent years, Bilbao Airport has emerged as a shining example of resilience and growth. The airport has experienced a solid recovery, with an astounding 16.07% increase in passenger numbers during Q3 2023 compared to last year. This remarkable growth recently builds on its impressive trajectory, with a notable recovery in 2021 and continued expansion in 2022, signifying a positive trend for the travel industry and underlining the potential for further growth and success.
According to the latest statistics, Spain's Bilbao Airport (BIO) has experienced steady growth in passenger numbers during the third quarter of 2023. Comparing the figures to the same quarter in the previous four years, it is evident that the airport has rebounded strongly from the challenges posed by the global pandemic in 2020.
Comparing Passenger Numbers: Q3 (2019) - Q3 (2023)
In Q3 2019, there were 1,738,555 passengers recorded. However, in Q3 2020, there was a significant decrease in passengers volume with only 526,213 recorded. This represents a staggering decline of 69.73% compared to the previous year. The following year, in Q3 2021, there was a notable recovery in passenger numbers, with 1,122,738 passengers recorded. This represents a significant increase of 113.36% compared to the same quarter of the previous year.
Building on this recovery trend, Q3 2022 saw further growth with 1,701,626 passengers recorded. This represents an increase of 51.56% compared to the same quarter of the previous year. Looking at the most recent Q3 statistics in 2023, the number of passengers increased, reaching 1,975,090. This represents a growth of 16.07% compared to the same quarter of the previous year. These figures indicate periods of decline and recovery in passenger traffic, with a positive trend in recent years, suggesting potential growth in the travel industry.
Bilbao Airport Passenger Statistics: 2018 - 2022
Analyzing passenger statistics for 2018 to 2022 reveals the extent of Bilbao Airport's recovery from the global pandemic downturn. 2018, the airport recorded 5,455,976 passengers, which increased to 5,860,207 in 2019, representing a 7.41% growth. However, in 2020, due to the pandemic, passenger numbers dropped significantly to 1,672,806, marking a 71.45% decrease from the previous year. In 2021, there was a strong rebound, with passenger numbers reaching 2,578,255, representing a growth of 54.13%. The most remarkable recovery occurred in 2022, with a staggering 98.96% increase in passenger numbers compared to the previous year, reaching a total of 5,129,583.
Flight Statistics for September 2023 at Bilbao Airport
Bilbao Airport is a gateway for domestic and international flights, offering a wide range of destinations to cater to passengers' needs. As we look into the flight statistics for September 2023, several key findings have emerged, providing valuable insights into the preferences and choices of travelers.
When examining the top country destinations during this period, it becomes evident that Spain remains a favored choice for travelers, capturing most passenger traffic to and from this hub. Other popular international destinations include Munich, Amsterdam, Paris, London, and Lisbon. These cities have emerged as preferred choices for those seeking international travel opportunities.
The airport connects passengers to major cities such as Madrid, Barcelona, Sevilla, Palma Mallorca, and Malaga for domestic travel within Spain. These destinations have consistently attracted many travelers, highlighting their popularity among domestic flight routes from Bilbao Airport.
Passengers flying to and from this airport can also choose from various airlines. The top airlines operating at the airport include Vueling, Volotea, Lufthansa, Air Europa, and Iberia. These airlines provide passengers with ample options, ensuring convenience and flexibility in their travel plans.
These flight statistics not only shed light on the preferences of passengers but also reinforce the resilience and recovery of Bilbao Airport from the challenges posed by the pandemic. The airport's ability to offer diverse destinations and accommodate multiple airlines contributes to its increasing popularity among travelers, positioning it as a preferred choice for domestic and international flights.
This Spanish airport has made an impressive recovery from the global pandemic, showing steady passenger growth and diverse connectivity. In Q3 2023, there was a double-digit increase in passenger volume compared to the same period in 2022. With a significant recovery since 2019, Bilbao Airport will continue to provide a range of popular country destinations and reputable airlines, making it increasingly popular and convenient for travelers.
Are you a travel publisher and would like this information for your site/blog/publication?
Contact us on this form to request Bilbao Airport Statistics (Statistics, data and infographics are available for a wide range of airports worldwide - please tell us your requirements using the form)
UNBEATABLE VALUE CAR RENTAL

FREE
Amendments,
FREE
Cancellations,
NO
card fees!

airport_shuttle Need Airport Transfers?
Useful Information about Bilbao Airport