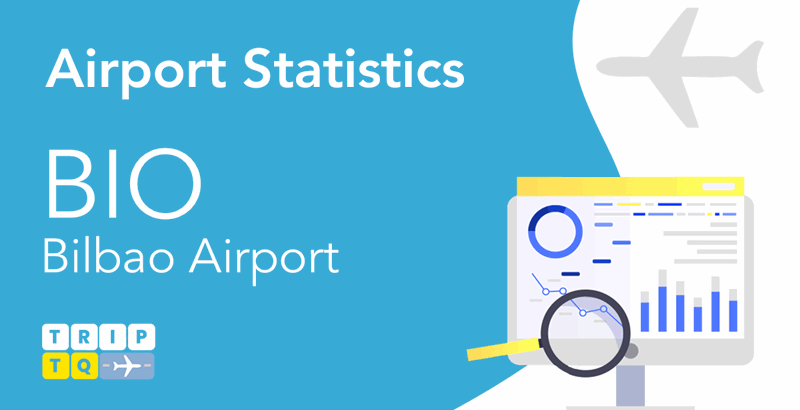 Bilbao Airport Achieves a 9% Rise in September 2023 Passenger Traffic
In the post-pandemic era, airports worldwide strive to recover and adapt to the new normal. Since 2019, there has been a notable increase in passenger traffic. However, some airports have faced significant challenges in recovering from the reduced numbers during lockdowns. 
Among these, Bilbao Airport stands out with a remarkable recovery. In September 2023, this hub recorded an 8.99% increase in passenger numbers compared to the same month in the pre-pandemic year of 2019. The airport's successful recovery offers potential insights and strategies for other airports worldwide.
Several factors have contributed to Bilbao Airport's quick recovery, including:
The easing of travel restrictions: With the lifting of travel restrictions worldwide, more people can now travel freely. This has led to a surge in flight demand and other travel services.
The strong rebound in leisure travel: Leisure travel has been the driving force behind the recovery of the aviation industry. As people are eager to explore new destinations and reunite with loved ones, they spend more on leisure travel.
Low-cost airlines: The increasing popularity of low-cost airlines has played a significant role in making air travel more affordable and accessible. This has attracted more people to travel, particularly budget-conscious travelers.
Bilbao Airport's strategic location: Bilbao Airport is strategically located in northern Spain, making it a convenient hub for travel between Europe and South America. The airport is also well-positioned to serve the growing tourism industry in the Basque Country.
Government Support
The Spanish government has played a vital role in supporting the aviation industry during the pandemic. The government provided financial assistance to airports and airlines and implemented measures to boost tourism. This support has been instrumental in the rapid recovery of Bilbao Airport.
In particular, the government introduced several schemes to help airports and airlines reduce costs and maintain liquidity during the pandemic. For example, the government provided tax breaks and waived airline landing fees. The government also launched a support package for the tourism industry, which included funding for marketing campaigns and infrastructure projects.
The government's support has helped Bilbao Airport maintain its operations and connectivity throughout the pandemic. This has enabled the airport to bounce back once travel restrictions were lifted quickly.
Investment in Infrastructure and Services
Bilbao Airport has invested heavily in improving its infrastructure and services recently. This has made the airport more attractive to airlines and passengers alike. For example, the airport has upgraded its terminal facilities to make them more comfortable and efficient. The airport has also expanded its runway and improved its transportation links to the city center. 
In addition, the airport has introduced some new services, such as self-service check-in kiosks and mobile boarding passes. These investments have helped to make Bilbao Airport one of the most modern and efficient airports in Europe. This has made the airport more attractive to airlines, which are now more likely to operate flights to and from Bilbao.
Effective Marketing and Promotion
Bilbao Airport has implemented effective marketing and promotional campaigns to attract passengers. For example, the airport has launched campaigns to promote the Basque Country as a tourist destination and to highlight its convenient connections to other parts of Europe and the world.
The airport has partnered with airlines and tour operators to offer discounted fares and special packages. These marketing and promotional efforts have helped to increase awareness of Bilbao Airport and attract more passengers.
Collaboration with Airlines and Other Stakeholders
Bilbao Airport has worked closely with airlines and other stakeholders to support the recovery of the aviation industry. For example, the airport has partnered with airlines to develop joint marketing and promotional campaigns. The airport has also worked with other stakeholders, such as hotels and tourism boards, to create a seamless passenger travel experience.
This collaboration has helped to create a strong and supportive aviation community in Bilbao. This community has played a key role in the airport's rapid recovery from the pandemic.
Accommodation and Tourism Options in Bilbao
Bilbao is a vibrant city with a lot to offer visitors. There is a wide range of accommodation options available, from budget-friendly hostels to luxury hotels. The city also has a rich cultural heritage and a diverse culinary scene.
Cultural attractions: Bilbao is home to world-class museums, including the Guggenheim Museum Bilbao, the Bilbao Fine Arts Museum, and the Basque Museum. The city also has a thriving theater scene and hosts many festivals yearly.
Outdoor activities: Because of the mountains and coastline that surround Bilbao, there are numerous outdoor activities available to visitors. Popular activities include hiking, biking, surfing, and sailing.
Food and drink: Bilbao has a diverse culinary scene, with restaurants serving everything from traditional Basque cuisine to international fare. The city is also known for its pintxos bars, which offer a variety of small plates to share.
The quicker recovery of Bilbao Airport can be attributed to several factors, including an effective pandemic response, government initiatives, strategic planning, collaboration with airlines, and continuous improvement. Despite the challenges faced during the pandemic, these actions have led to a significant increase in passenger traffic at this hub. This underscores the importance of adaptation, collaboration, and continuous improvement in the aviation industry in the post-pandemic era.
UNBEATABLE VALUE CAR RENTAL

FREE
Amendments,
FREE
Cancellations,
NO
card fees!

airport_shuttle Need Airport Transfers?
Useful Information about Bilbao Airport